What's in a name? Judging by the recurrent noise around the release of Padmaavat, tons of chest beating, arson, stone pelting and hooliganism.
Beyond the news, the renaming of Bhansali's film was an exercise in futility. For his grand tale is a salute to the bravery and sacrifice of a Rajput queen — one who was gorgeous, free-spirited, smart and deft at statecraft. It's an ode to the sum total of edited truths about Rajput glory (mostly myths rather than historical fact).  The best way to do justice to this elaborate tribute to (real and imagined) Rajput glory would have been to retain the name Padmavati, for the film caps Bhansali's interpretation of the woman.
Of course, what I say is in hindsight. The makers had to give in to the Central Board of Film Certification's directives — or lose out on showing Padmavati/Padmaavat at all. Sad, but true.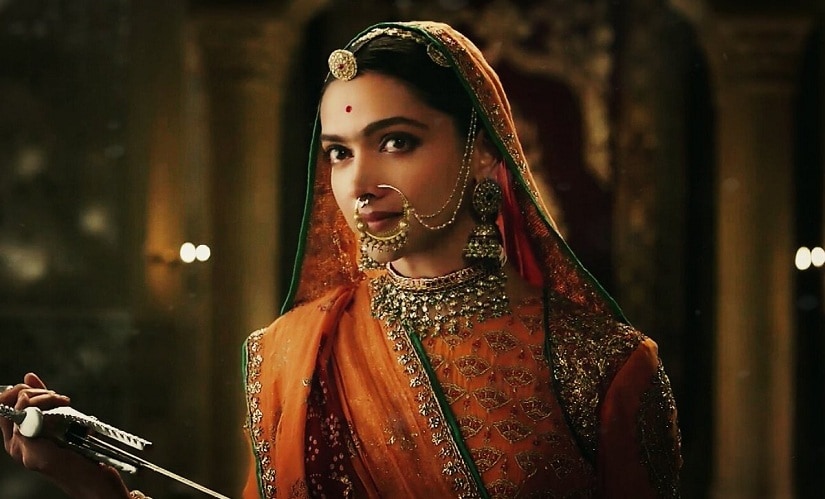 Like some of Bhansali's female protagonists of the past, Padmavati has all the makings of a true hero. She is a skilled archer who hunts in the lush, green jungles of Sinhala (modern day Sri Lanka), marries a besotted Rajput king, Rawal Ratan Singh, and moves to the desert kingdom of Chittor: a regal fort where at least 10,000 oil lamps are lit at all times, every piece of fabric is richly embroidered silk or satin, and well-crafted pots and pans are part of every frame. Here, Padmavati settles in to be the loved, worshipped queen — a homemaker to the hilt. When trouble comes knocking in the form of a lustful, conquest-crazy Alauddin Khilji, she advises her husband smartly on statecraft and war games. She also rescues him from Khilji's dungeons, while inflicting damage on the enemy (with some help from the latter's long suffering wife). In the end, haplessly bound by a code of male-dictated honour, she decides to jump into a blazing fire with all the women in the fort, to save themselves from the pillage of a victorious Khilji.
At every given moment in the story, Padmavati stands tall as the ideal queen. Her husband's first wife, Nagmati, sadly is given little to say or do; at times, she is projected as petty — which is unfair, given the injustice meted out to her when Rawal Ratan replaces her with a newer, prettier model is not addressed at all. Of course, she merrily jumps into the fire too.
The filmmaker has focused on courage under fire by highlighting the quiet dignity of Mehrunissa, Alauddin Khilji's wife. She is the voice of reason, always overruled but fearless.  Both Padmavati and Mehrunissa are intent on the guidance and persuasion of their headstrong husbands. In Padmaavat, the women are the pillars of strength for their men. Both queens here are able, rational people. Yet, both surrender to a premise of life dictated by men. In this aspect, of empowering his women yet falling short of making them active actors in determining their lives, Padmavati and Mehrunissa are a culmination of Bhansali's interpretation of women.
Over time, SLB's women have evolved, yet stayed passive during grand finale moments. Bhansali's defiant, heartbroken female protagonist, Nandini, doesn't give in to convention despite being forced to marry. Her battle is passive aggressive, never overt but the kind that wreaks havoc in a marriage. His women in Devdas were huge creative liberties: There is Paro's cantankerous mother, deafening the audience with her tirade against Devdas' mother, the haughty, over-jewelled zamindar's wife. There is Paro, heart broken, humiliated and yet adjusted to a pragmatic marriage. There is Chandramukhi, the courtesan with a heart of gold. Each woman plays a crucial role in influencing Devdas' life, an ineffectual, privileged, weak protagonist — but none of them has any say over his destiny. Women in Bhansali's films have well-written dialogues, don't give in easily — but finally, always surrender to the dictates of society.
When Bhansali chose to make women the center of his story, he made them noble with a capital N. He whitewashed the heroine with greatness in the films that followed. In Black, Michelle is determined, good and set on conquering her physical challenges. Sophia in Guzaarish is silently loving; aching but willing to make sacrifices.
Only later did Bhansali give his heroines some teeth. In Goliyon Ki Rasleela: Ramleela and Bajirao Mastani, his female protagonists oscillate between good and evil, and actively shape the story.  Supriya Pathak's role of Dhankor, quietly menacing and deadly, is the strongest female character SLB has ever created. Her cold choices, and later, regret shape the film's story. Leela's journey — from innocence and free spiritedness, to defiance, and surrender to love — is captivating. Leela takes control of her destiny, in choosing to die along with her lover, Ram. She doesn't give in to her natural destiny easily either.
Similarly, in Bajirao Mastani, with a single scene where Kashi Bai confronts Bajirao on his decision to make Mastani his kept woman, Bhansali underlines the injustice she suffers. Bajirao's widowed mother in this film is head strong and dogmatic, just like Mastani is determined. Their mutual animosity turns to brinkmanship. Yet, in the climax, Mastani gives in and is willing to be imprisoned, rather than pick up her weapons again. Therein lies the contradiction of Sanjay Bhansali's interpretation of women: the filmmaker empowers them only to take away their ability to battle male codes of conduct.
One can always argue that Bhansali's films are based on historical incidents or myths, so altering a story line beyond a point isn't feasible. However, that becomes contradictory, as SLB has always liberally played with history. From Khilji's Mongolian inspired costume, to use of elephants in open warfare in a desert, to the magnificent wealth attributed to a small Rajput kingdom — he has interpreted history to fit his glitzy narrative. Towards its end, Padmaavat the poem indicates a lusty Rajput king too, willing to kill for the queen of Chittor. But Bhansali has erased that detail. He had similarly re-interpreted Bajirao Mastani as well.
In the climax of Padmaavat, when Rani Padmavati and the noble women of Chittor have locked themselves inside the fort as they set out to commit jauhar (self immolation), Khilji is held back by hot coals flung by the women. This scene could be SLB's tribute to Ketan Mehta's Mirch Masala. The 1980s classic's supremely powerful climax showed the oppressed women flinging chilli powder by the kilo-loads on to a cruel employer.
One so wished Bhansali hadn't stopped himself at just using the technique from this film, but actually gone a step forward and shown Padmavati and the women retaliate against Khilji. Sacrifice has its place, but there is glory in battle too.
Then again, this is a flight of fancy. For, in the days of Karni Sena and school buses being attacked, Sanjay Bhansali's passive aggressive women seem to make better sense; if nothing else, then just to survive the toxic, vitiated political climate that runs the show today.